Recently, parametric insurance solutions have found their way into the corporate world. And what does that imply? Essentially, parametric insurance guarantees direct payouts after qualifying events and provides protection regarding unpredictable but potentially catastrophic situations – it does it in ways that traditional insurance has not been able to. To elaborate on the basic assumptions of the parametric insurance, we can compare the two different approaches – in traditional ways, we would be incurred the actual losses experienced, however in the parametric, more flexible alternative, the probability of a predefined event happening is covered (for example, a hurricane or an earthquake), and it is paid out according to a predefined scheme. In the parametric approach, covered events may refer to index-based triggers (for example, crop shortfall) or to an event within a certain, defined area (often referred to as a "cat-in-a-box"). "Insurance Journal" provides an example of a cat-in-a-box: "a policy might be structured to pay out 50%, 75%, or 100% of a predefined limit for a Category 3, 4, or 5 hurricane, respectively, happening within a 30-mile radius around the client's point of interest". Parametric insurance is often detected in instances of catastrophe risks, however an increase in other sectors, like aviation, or generally, in projects where financial losses, that result from external forces that the insureds cannot control, are being avoided.
In comparison to the traditional insurance goods, we can observe that in the scheme of a parametric approach, the complexity of the loss investigation is diminished and there is an assurance that the loss payment will be recovered. This also contributes to a faster payout period in the parametric insurance cases.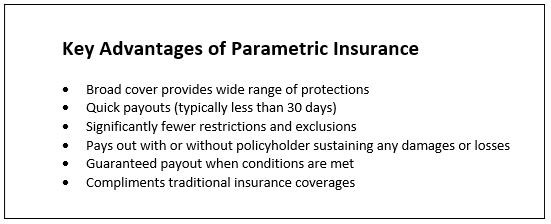 Source: "Insurance Journal"
CCN Advisory Service can help you!
For years now CCN has been offering claims, legal and administrative services to international (re)insurers, captives, brokers, fleet owners, governments and enterprises, with the ambition to help companies to truly innovate and develop service concepts effectively coping with the present-day challenges. Keeping in mind how it is continuously difficult to meet the demands of the changing markets, CCN started to collect and evaluate these experiences. As a result, CCN Advisory Service is here with the sole objective to advice and support companies in coping with a rapidly changing environment.
It can be challenging for businesses that consider parametric insurance. As the coverage here becomes wider, it might become a more expensive option. Thus, the understanding of an organization's business model and an ability to process high amounts of data, as well as develop all the necessary financial nuances is of vital importance. Nowadays, the more sophisticated companies choose to inquire regarding the parametric solutions at a higher rate, thus assistance in establishing this kind of insurance also grows. The companies that attempt to eliminate the claims handling processes might also be interested in choosing parametric insurance alternative, as this is a more cost-efficient option. What makes it possible to remove the claims handling operation is that the predetermined trigger and a pay-out mechanism create a very black-and-white position, where it is clear whether the payment is owed and how big of a compensation it has to be.
The Role of Advisors
It becomes clear that instead of claims handling representatives, the companies that choose the parametric insurance will require advisors that can help regarding the early planning stages of obtaining a policy. The companies will need assistance in ensuring that the trigger events and the payout schemas are precise and clear in the insurance policy. Moreover, companies will need advice regarding the firm legal language that clearly defines the triggering events and the due compensations, as unclear definitions might lead to disastrous outcomes for the organizations. Advisors that are able to fully comprehend the ins and outs of parametric insurance policies, are a valuable addition to the companies ready to choose this novel insurance approach.
Advisors' role also includes knowledge in traditional insurance and what it is missing – how can a parametric insurance fill in the gaps: identifying what can cause the biggest losses and choosing the most fitting and competent insurance providers on behalf of the represented companies. In addition, advisors have to be able to identify what is the relevant data in order to be able to determine an appropriate index regarding the insurance coverage needs of a policyholder, especially when this relates to the non-traditional liabilities.
The clear benefits of parametric insurance are leading to the continuous growth of adoption of such an approach, however before choosing this kind of insurance, companies will turn to consultants to inform them further about the intricate aspects of the novel insurance policies.
That is where CCN Advisory Services come into play and offer their assistance, experience and field knowledge: how can a parametric insurance compliment your company? How not to get lost in all the confusing legal language and come up with explicit loss and compensation definitions in order to protect organizations from unwanted outcomes.
If you wish to enquire further or have any questions, please visit our website and reach out! Contact – CCN (claimscorpnetwork.com)