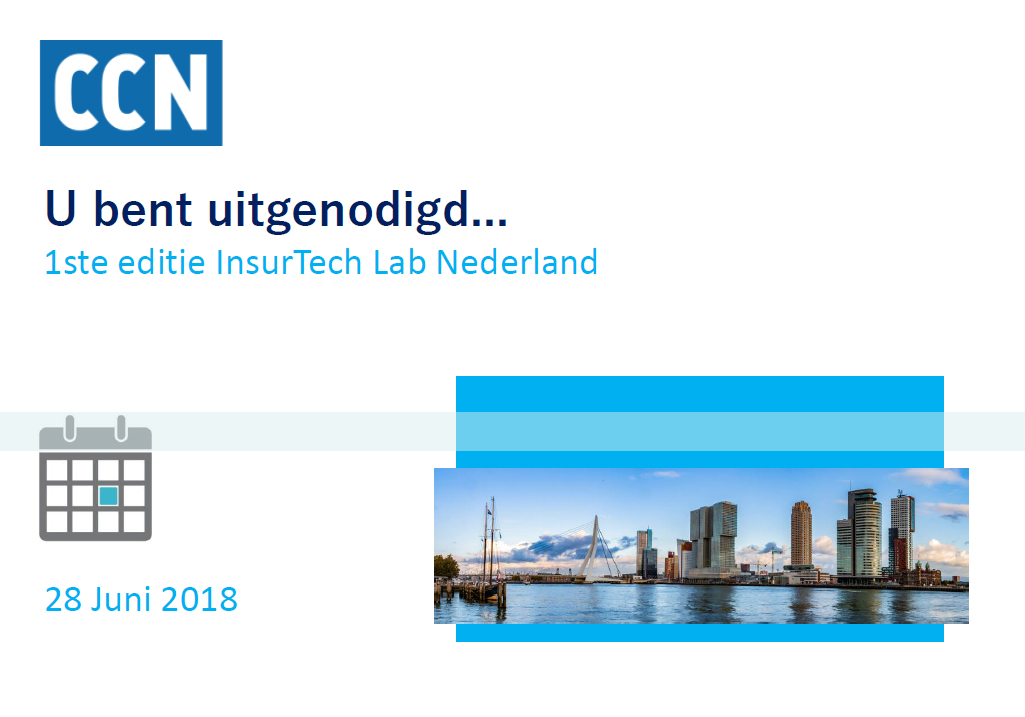 CCN faciliteert op 28 juni de eerste editie van het Insurtech Lab in Nederland. We nodigen u graag uit voor deze conferentie, welke wordt gevolgd door summer drinks op het prachtige dakterras van het CCN Benelux gebouw in Rotterdam.
Tijdens de conferentie zullen een aantal van onze partners u op de hoogte brengen van de laatste ontwikkelingen op het gebied van blockchain, fraudedetectie, digitale oplossingen voor schadeherstel en customer experience.
De conferentie wordt gehouden in het pentoffice van CCN met prachtig uitzicht over het centrum van Rotterdam. Na de conferentie bent u uitgenodigd op het dakterras voor summer drinks en heeft u de kans om met onze partners en collega's uit het vak te spreken. We stellen het zeer op prijs als u onze conferentie bijwoont en ons bijstaat om het een succesvolle dag te maken.
Programma
Conferentie: Gebouw CCN Benelux, 's Gravendijkwal 134, 3015 CC Rotterdam
15.00 – 15.30  Welkom en registratie
15.30 – 15.50  Introductie (Cees Werff)
15.50 – 16.20  Openclaims (Lex Orie) – Technology increasing customer experience and decreasing costs
16.20 – 16.50  Friss (Christian van Leeuwen) – Ontwikkelingen op het gebied van fraudedetectie en risicobeheersing
16.50 – 17.00  Koffiepauze
17.00 – 17.30  Kryha (Tobias Disse) – Blockchain opportunities in insurance
17.30 – 18.00  Akzo Nobel (Stephen Read) – Bodyshops and the disrupting developments in customer experience
Summer drinks: Gebouw CCN Benelux, 's Gravendijkwal 134, 3015 CC Rotterdam
18.00 – 20.00 Summer drinks and snacks
Neemt u deel aan de conferentie en/of de summer drinks? Stuur dan een e-mail naar: k.birkhoff@claimscorpnetwork.com.